Products
Production Chemicals

Products
Drilling Chemicals

Products
Stimulation Chemicals


Products
Cementing Chemicals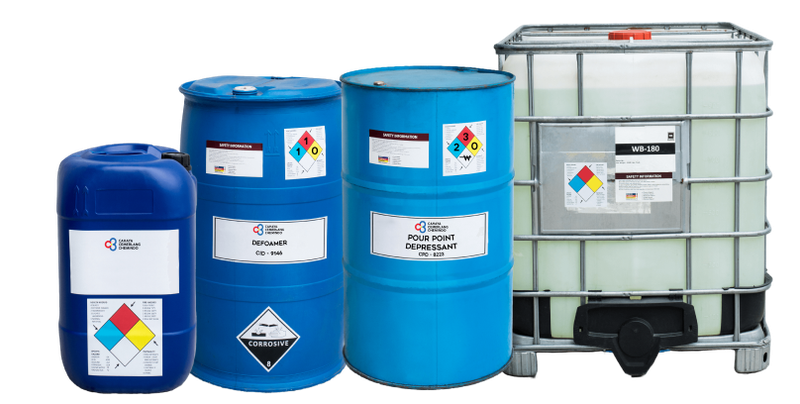 Production Chemical
Product Optimization
Product
Series
Description
Demulsifier / Emulsion Breaker
CE
a mixture of specially blended surface active materials in a solvent
Reverse Demulsifier / Water Clarifier
CWC
A milky liquid containing high-molecular- weight polymers with acid functional groups, which is used to help separate oil and solids from oilfield waters
Foamer
CF
water soluble product containt surfactant that foams both the oil and water in oil well.
Flow Assurance
Product
Series
Description
Paraffin Solvent
CPS
Paraffin Solvent is a unique mixture of aromatic, aliphatic and naphthenic liquid organic hydrocarbons especially designed to dissolved paraffin deposits.
Pour Point Deppresant
CPP
an organic, oil soluble chemical formulation for use as a flow improver/pour point depressant and paraffin inhibitor for waxy crude oils and heavy fuel oils.
Scale Inhibitor
CSI
This product is a high efficient scale inhibitor for barium sulphate, calcium carbonate, and is also calcium sulphate. Our product is believed to prevent scale formation by a variety of mechanisms. These include chelation, crystal distortion and threshold effects at sub- stoichiometric levels.
Integrity Management
Product
Series
Description
Corrosion Inhibitor
CCG / CCO / CCW
corrosion inhibitor is a complex amine type corrosion inhibitor formulated fo board aplication in oil and gas production
Biocide
CBO
Biocide is a bactericidal blend of aldehyde for general use as an industrial bactericide
H2S Scavenger
CHS
a liquid Hydrogen Sulphide scavenger of MEA triazine used for the removal of Hydrogen Sulphide from oil and gas stream.
Oxigen Scavenger
COX
a liquid oxygen scavenger based of amommonium be sulfide used for the removal of dissolved oxygen from brine waters.
Drilling Chemical
Oil Based Mud
Product
Brand
Description
Primery Emulsifier
Ultra Mul-P
Used as a primary emulsifier providing excellent and stable emulsion
Secondary Emulsifier
Ultra Mul-S
Stable invert emulsion with preferential wetting of solids by the continuous oil phase and helps maintain a tight HPHT fluid loss
Wetting Agent
Ultra Wet
Used to improve temperature Stability and HTHP Filtration Control
Water Based
Product
Brand
Description
Polyamine
Ultra-Poly
Liquid clay inhibitor specifically designed for use in polymer base drillin
Drilling Detergent
Ultra-Detergent
Water soluble, biodegradable and rig wash
Drilling Lubricant
Ultra-Lub
Decrease the coefficient of friction in all water base mud
Biocide
Ultra-Xide
Micro biocide with broad range activity against bacteria, algae and fungi
Oxygen Scavenger
Ultra-Oxscav
Used to scavenge oxygen
H2S Scavenger
Ultra H2S Scav
Used to scavenge Hydrogen Sulfide
Corrosion Inhibitor
Ultra-Corhib
Decreases the corrosion rate
Defomer
Ultra-Defomer
Chemical addictive for reduce foam
Thinner
Ultra-Thin
Low molecular weight anionic synthetic copolymer supplied as amber liquid
Mud Condioning
CMCo
The treatment and control of drilling mud to ensure that it has the correct properties. Conditioning may include the use of additives, the removal of sand or other solids, the removal of gas, the addition of water, and other measures to prepare the mud for conditions encountered in a specific well.
Stimulation Chemical
Product
Brand
Description
Non Emulsifier
CNEA - 922
Nonemulsifier is a mixture of specially blended surface active materials in a solvent system containing aromatic solvent
Surfactant
CSA – 9xx
Non ionic dan anionic surfactant
Acid Corrosion Inhibitor
CCI - 984
It is blend of water soluble amine derivative which have substantive properties. They modife the metal suface by absorption, this inhibition corrosion.
Clay Stabilizer
CS 7445
surfactant blend used in stimulation treatments to prevent the migration or swelling clay particles.
Chelatting Agent
CCA - 7145
an aminopolycarboxylic acid with the formula [CH2N(CH2CO2H)2]2. This white, water-soluble solid is widely used to bind to iron and calcium ions.
Mutual Solvent
CMS – 8201
It is a glycol ether base a fast-evaporating glycol ether with an excellent balance of hydrophilic and hydrophobic character; excellent active solvency and coupling properties.
Water Treatment
Product
Series
Description
Non Oxidising Biocide
CB- 2xx
is a liquid biocide containing methy isothiazoline type is used in recirculating cooling water system and closed loop systems to control microbial growth
Biodispersant Cleaner
CB - 205
CB-205 is a synthetic organic Biodispersant which is effective in removing dead algae and slime mass from cooling system.
Oxygen Scavenger
COS- 702
COS - 702, is clear liquid totally soluble in water. The produck can catalyzed oxygen scavenger in hight pressure boilers or hight pressure at hot water circuits. COS – 702 is stable at room temperature.
Scale Removal
CSR – 8xx
Is a complex blend of phosphate, dispersant and chelating agent formulated to give maximum protection againts scale formation in boiller.
Antifoam (Defoamer)
CA – 9xx
an aminopolycarboxylic acid with the formula [CH2N(CH2CO2H)2]2. This white, water-soluble solid is widely used to bind to iron and calcium ions.
Corrosion Inhibitor
CI – 1XX
Is Corrosion Inhibitor is a liquid fully buffered multi metal corrosion inhibitor designed for closed circuit cooling. It will give excellent protection to
Cementing Chemical
Product
Series
Description
Accelerator
CAC – 19XX
is composed of a variety of inorganic salts. It used Shotter thickening time and higher early compresive strength
Retarder
CRT – 11XX
polymer based retarder. It can pro long the thickening
Weighting Agent
CWA – 16XX
Used to higher slurry density.
Dispersant
CDS – 14XX
effectively reduce consistence of slurry and improve its rheological property.
Fluid Loss Additive
CFL – 10XX
Used to reduce slurry dehydration
Loss Circulation Additive
CLC – 13XX
Used to prevent loss of slurry to formation
Gas Block
CFS – 15XX
It has a strong ability of absorbing water, it can effectively bound water between cement particles, control and reduce free fluid, and prevent fluid channeling during direction and horizontal well cementing
Antifoam Agent
CDF – 16XX
type antofoam agent which can effectively eliminates the foaming caused in mixing slurry and has good ability to retard foaming in cement slurry. It has good compatibility.